Welcome to our home, 10pm

This is the logo of our luxurious holiday house in Burgundy – 10pm or 10 Grande Rue Puligny Montrachet to give it its full name. The logo is taken from a fabulous painting "A Drink to Soutine" by the established British artist Chris Gollon who is renowned for painting life into everything and bringing everything to life.
Our house in Puligny Montrachet is to let to holiday makers or for professionals coming to sample the heavenly wines that Burgundy has to offer.
Nestled in the heart of Burgundy, in Puligny Montrachet – home of the most prestigious white wine in the world, this house and its accompanying "Little House" is for lovers of wine & wine making. Here you are in the centre of things, the statuesque vineyard tractors rolling by, trailers bursting with the vendange, the clinking of the bottle washer, the whirr of the cuverie coolers – and, if you are lucky, the whispering of the yeastie beasties as they work their magic on the fermenting must.
It takes 435 paces to reach the boulangerie, and our favourite Michelin starred restaurant is just a stroll through the vineyards. There is also a fine-wine bar & a fabulous bistro where you will eat with the locals – who probably produce the wine you are drinking!
Lovingly refurbished to a high standard of comfort, it gives you an ideal base from which to explore Burgundy in all its glory. Puligny Montrachet is one of the most important stops on the Route des Grands Crus and is just 12 km from historic Beaune and its wonderful market.
Enjoy a luxurious experience, using our links within the community to turn your trip into an unforgettable, magical insight into the world of wine making and the treasures it produces.
Come in and see…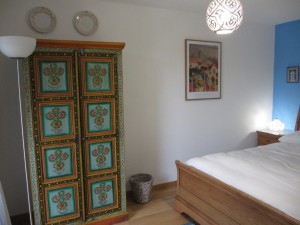 If you cannot initially see the map below, please click on the "brackets" icons on the top right  to go through to the Google map and then come back to this website page…
If you like, you can click on the "B" below and use the directions button (top right of the key pop up) to find out how to get to us from Geneva, Lyon or Paris…
If you click on the "brackets" icon on the top right hand side of the map, it will take you through to a larger map