Puligny
Our village, Puligny Montrachet, is the most famous white wine location in the world. Along with its sisters, and close neighbours, Chassagne Montrachet and Meursault it has an impressively large and distinguished fan club.
Check out the Caveau where wine makers can be seen sampling each other's exceptional wines.
A fine place for breakfast, lunch or dinner is the local bistrot, L'Estaminet which provides authentic Burgundian meals at reasonable prices. And  they have a table football machine inside!
The Epicerie is run by the owners of L'Estaminet and sells basics, a few luxuries and some souvenirs.
The boulangerie opens very early and is a mere 435 paces from our front gate. Get your bread and croissants warm…
In the immediate village there are another two restaurants, the Michelin starred Le Montrachet and a new bistro-style restaurant Le Pelugney.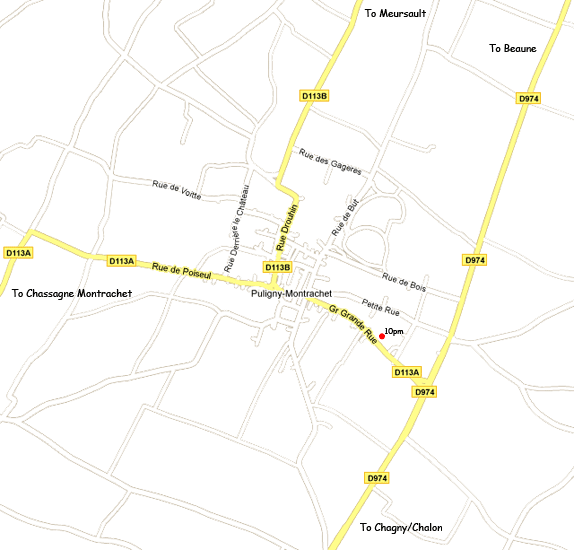 Just explore the village yourselves and you will find a whole host of things to inspire you: winemakers' homes, architectural features, glimpses out into the vineyards, a dog asleep….
In the Google map (see link below) we have highlighted some of the interesting locations in the village such as the boulangerie, the local restaurants and bars, the roads to other interesting places…
View Puligny Montrachet Village in a Google map