Cynthia's choices 2017!
Dear friends of 10pm, Cynthia and her husband Nobie, came for their third or fourth visit to 10pm in 2017. We say "third or fourth" because the first year they came on two separate weeks!
In 2017, Cynthia very kindly wrote to us with the highlights of their dining experiences.
Thank you so much Cynthia! Just click on the names for websites. Here goes…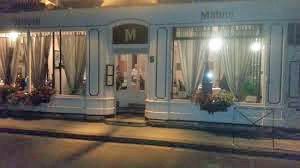 I know I wrote a review for our time last year but I thought I would send comments from our experiences this year….
On our most recent stay at 10PM, we had Sunday dinner at Midupi in Nolay two Sunday's in a row. They normally aren't open on Sunday so advance reservations are a must.
Our table of four started with two pre-dinner treats: duck rillettes with a coco biscuit and then roasted and pureed eggplant with bacon, balsamic vinegar and cream fresh. And we haven't even ordered yet!
First courses included langoustines with zucchini spaghetti wrapped in puff pastry shaped like a purse and rabbit rolled with vegetables. Delicious.
Main courses included veal with potatoes, Guinea fowl and duck.
Dessert was awesome – apple tart with caramel ice cream topped with a cream brulee sugar hat. Outstanding!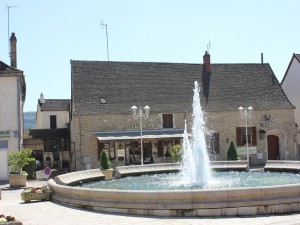 Located on the center square in Santenay across from the fountain lit at night with multiple colored lights. This family run restaurant serves excellent Burgundian food.
We started with escargots (lots of butter and parsley to dip your bread in) and a seasonal salad – very fresh vegetables.
Main courses were coq au vin and boeuf. Dessert was cream brulee with caramel sauce and stewed apricots.
The wine and food were reasonably priced and the dining room was lovely and filled with locals enjoying an evening out.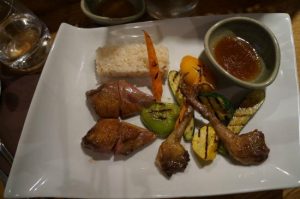 A new restaurant in Beaune. Very small – 5 tables and bar seating overlooking the chef preparing your food. Reservations are a must and can be made via Facebook messenger.
The cuisine is French with a Japanese twist – delicious. Plates are meant to be shared here.
We had edamame, grilled Japanese mushrooms in a ponzu sauce, seared scallops with taro root, pork chops, fried chicken katsu and chicken balls. Everything was outstanding.
Desert was flan (not our favorite) and chocolate gateau.
I can't wait to come back and try the rest of the menu. Highly recommend a meal here.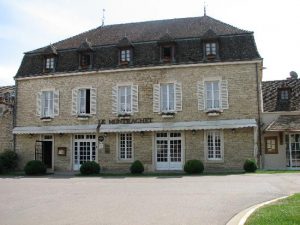 We strolled into Puligny Montrachet to have dinner here one night. This is nice because you can eat and drink as much as you want and not have to worry about driving home.
The dining room was filled with locals celebrating various life and wine events but we felt very comfortable and received excellent service.
We start with the pre-dinner treats: crab with confit of tomatoes and red pepper/tomato granita.
Dinners were sea bream with lime and vegetables and lamb shoulder.
We finished with cheese (of course) and then poached peaches in sorbet and crackers (sounds strange but was delicious).
They have really focused on improving their food and it was evident this evening.
Located in Morey-Saint-Denis, we came here for lunch.
Several years ago we ate here and the restaurant (located in the hotel with the same name) has totally transformed. A sleek, modern design in the dining room is matched by the food which is tapas inspired.
We shared multiple types of Jambon, marinated olives, artichokes, shrimp and cheese.
After many French focused meals, this was a nice change.
The prices were also reasonable.