Foodie shops
We have not detailed every single foodie shop here – after all this is France! But we have set out just a few of our absolute favourites so far. Please do let us know what else you discover that is a candidate for these pages…
Beaune
Bread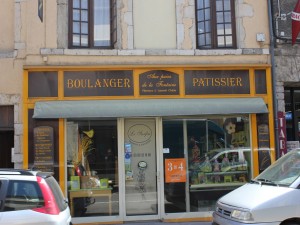 The pain de la Fontaine in the boulangerie la Fontaine in Beaune is beautiful – crusty, springy and yeasty. The boulangerie is on the left as you come into Beaune from the direction of Puligny. We will eventually have a map showing locations such as this.
Charcuterie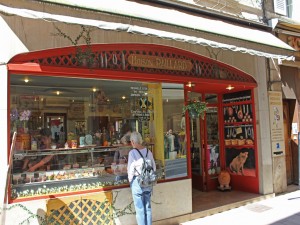 Up the Rue Monge in Beaune you will find Maison Raillard, a very fine, old fashioned, establishment. In fact, you will find the place full of locals.
They do lovely terrines, salads and pies – go and have a look!
Chocolate
Alain Batt has a very fine  nougat and chocolate shop in Beaune, just up the Rue Monge from the market square, on the right hand side of the street.
All flavours of nougat can be found here – black cherry, pistachio, fudge, chocolate, lemon, etc etc etc and you can mix and match slices. Perfect presents for friends back home (and for a small nibble).
Don't pass the chocolates by either as he has some lovely items and very quirky ones to such as the giant snails and XL bon bons.
Cheese
The best Beaufort can be found at the stall just as you enter Beaune market square (when the market is on, of course!).
The lady who runs the stall tells us that her Beaufort d'Alpage is produced from a single herd pasturing in the high mountain meadows in the summer and is aged for a minimum of six months.
She has offered guests of 10pm a small "gift" if you tell her you are staying with us. We hope she will remember!
There is no doubt in our minds that the most delicious Brillat-Savarin is made by Alain Hess. He has a wonderful shop in Beaune where you can explore all of the cheesy and other delights he has on offer. All of the (very wide) selection of cheeses he has are delicious. Don't be afraid to ask to taste a little. He also has a stall in the covered market. Click here to go to his website.
Fish
We have been told that the best oysters in the area (in season – months with an "r" in) come from the poissonnerie in Beaune. Again, we had a photo and hope to get a new one soon. To watch the plateau de fruit de mer leaving this place for private parties etc is a real sight to behold.
Fruit, veg, etc
Our favourite supermarket for fresh produce (fruit, vegetables, cheese, nuts, etc etc etc) is Grand Frais in North Beaune. It is worth a visit just to wander around and see all the varieties of fresh leaves, vegetables and exotic fruit. We love it!
Pain d'epices
This is a very typical burgundian cake made with lots of spices. It would also make a great present from the region. One of the best exponents is Dijon-based Mulot & Petitjean, with a shop in Beaune, on the corner just near the Alain Hess and his garden of cheesy delights.
Wine and wine tasting
Also worth a visit is the Caves Patriarche, the largest and oldest wine cellars in Beaune. You can visit the cellars and taste the wine. If you are using the services of Pascal Wagner, our friend and wine consultant, he will show you the best they have to offer (and not necessarily the most expensive).
There is a lot of information around already on wine tasting tourist-style so we won't repeat it all here. But we really do recommend that you consider engaging Pascal Wagner as a consultant for a day or so to show you something you probably would have difficulty finding on your own. We have our house in Puligny but we still use Pascal ourselves…
Chalon-sur-Saone
Chocolate and sweet delights
Our favourite chocolate shop in Europe, is Marc Wettling's amazing chocolate shop  on the main market street in Chalon. We think that his master creation is the "ganache de framboises au piment", a deeply flavoursome dark chocolate ganache with lovely tart raspberry notes and a small kick of chilli. However, a local spy has told us that his "chocolat à l'orange" is her favourite and we have yet to try it (as it was sold out last time we were there!).
In common with a lot of shops in Chalon, his opening hours are a little odd, closing sharp at 12.00pm, even though the market is still going strong. However, he reopens in the afternoons.
Latest opening time information available – Open Tuesday to Saturday 09.00 to 12.00 and 14.00 to 19.00, and Sundays from 09.00 to 12.00. Closed on Wednesday morning.
The fabulous Traiteur "who is never open" (well, sometimes it seems like that!)
Gallet Patrice at 8 Rue Saint Vincent, 71100 Chalon-sur-Saône. You can call them on 03-85-48-39-15.
These people do the most imaginative creations of  "take away" food you can dream of.
We will find out the opening hours but a warning that they do a lot of special catering and we have found them closed a few times on Sundays for "exceptional events" which are not so exceptional!
If you are planning a tasting, this could be a place to explore for provisions.
They also do full meals which you can pre order.
A gourmet rummage…
The foodie shop in the market square in front of you when you have the Cathedral to your right.
It has just reopened after being refurbished etc. You can get great pates, syrups, sugars, oils and the most scrummy array of fruit vinegars (raspberry and apricot are our favourites – when we took the photos above they were out of the raspberry and we bought the last apricot!
They are a bit more "normal" than they were before the refurb. Hopefully, they will get some of the more distinctive things soon (like jelly balls flavoured with rose, black currant, balsamic vinegar etc etc to add to drinks, freeze dried bits and pieces and Ferran Adria style dusts).
Pop in and have a look on your way round Chalon.
Chagny
Charcuterie Gardilliere
Meursault
The bakery opposite the church
The marvelous charcuterie – Charcuterie de Bourgogne