What's on in the Cote d'Or in Summer
Finding out what's on in Burgundy is getting easier, but it is still pretty hit and miss! We strongly recommend that you visit the Tourist Office in Meursault or Beaune to find out precise details.
However, on these pages we let you know about things that seem to happen every year and then, when we discover specifics, we give you details so that, if you want to, you can book in advance and not miss out! Please bear with us though as it is painstaking work and things can be changed without our knowing about it!
Where the year is specified, that's what we have discovered is planned. Where no year is specified, that's what seems to happen every year, but there is no guarantee! Just shout if you need help with anything.
Please note that some events run across months, so do skim the whole thing so that you don't miss something interesting in August that is described under June!
First we start with longer term events…
We may be inland but there is still water!
People ask about swimming in late Spring and summer. There are two options:
The oldest is the Lido in Santenay (a spa village). Go to our pot pourri of interesting things to do in the Cote d'Or to see a little more about the pool.
The second option is the Beaune Cote Plage. Also go to our pot pourri of interesting things to do in the Cote d'Or for information on this fabulous place.
It is open in the summer from 11.00 to 20.00 daily. €4 entry for swimming pools etc in a naturalistic environment.
From March until October 2019  in Beaune, at a restaurant called Helice, we have been told that there are snail tastings! You start with a plate of snails (funnily enough!), then a toast with mousse of snail and then a snail salad. this is accompanied by a glass of Burgundy white wine.
Every Saturday from 3 March to 2 November 2019 in Nolay, there is a visitor experience, including visits to the vineyards, demonstrations of the work being done at that time of year, exploration of the winery and explanation of the vinification process, ending with a convivial tasting of four wines. It lasts 90 minutes. €6 and €3 for children. Meet at the Tourist Office, 13 Rue de la Republique in Nolay.
From  6 April to 22 September 2019 the Alesia Roman reconstruction park is running an exhibition of glass jewellery, covering the history of glass from Egyptian times, via Celtic and Gallic glass makers, to current glass making in Nigeria.
It is near Alise-Sainte-Reine about an hour from Puligny.
From 19 April to 8 November 2019, on Mondays, Wednesdays and Fridays, there are aperitifs accompanied by music at the Hostelerie de Levernois in Levernois. It is reputed to have a very fine restaurant too!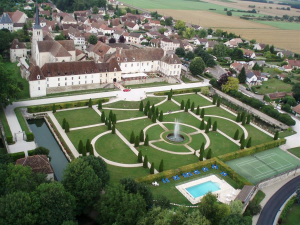 From June until 15 September 2019, in the gardens of the Chateau de Gilly, and within the Chateau itself, there is an exhibition of sculptures by some 20 different artists. It is open daily from 09.00 until 20.00. Free entrance. Works are for sale!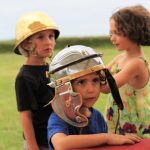 At the Alésia Gallo-Roman theme park in Alise-Sainte-Reine there are many activities throughout the year, but especially in Summer. They have visits to Roman ruins, re-enactments and special exhibitions. Great for children!
See their website www.alesia.com
On the Whitsun weekend every year (May or June) in Chalon there is a hot air balloon festival.
On 8 and 9 June 2019 in Nuits-Saint-Georges the Fruitrouges farm opens its doors and you can see the making of their fruit-based products and have guided tastings. The address is Ferme Fruitrouge, 2 Place de l'Eglse, Nuits-Saint-Georges. 09.00 to 12.00 and 14.00 to 19.00. Click here to go to Ferme Fruirouge's website.
On 10 June 2019 in Nolay there is an andouillette and local cooking festival. This is accompanied by an antiques and flea market. It is in the Town Hall gardens and is purported to run from 06.00 until 18.00.
On 13 and 20 June 2019 there will be a guided walk around the slopes of Corton. Departing from Ladoix, going through Aloxe-Corton, above Pernand-Vergelesses. Perobably with a picnic above the village and then return to Ladoix. Starts at 08.45. For more information, call 03 08 67 40 28.
On 17 June 2019 at the Ecole des Vins de Bourgogne, there is a full day's wine course on the Climats, in order to get a better understanding of what "Climats" means. Comprising:
A session illustrated by a horizontal tasting of white wines
Lunch in a Caveau restaurant
A session focusing on the area designated as "Climats de Bourgogne"
A "reading of the countryside" at the foot of the vines iof the Cote de Beaune
A horizontal tasting of red wines
The course is from 09.00 to 18.00. The cost is €210 per person. Contact 03 80 26 35 10 for more information and booking. Click here for their website.
Also on 17 June 2019 in Beaune Maison Louis Jadot is organising a rendezvous in the vineyards to talk about Terroir and the art of the vigneron. Followed by a visit to their Cave, a tasting and a convivial dinner!
Venue: Cuverie de la Maison Louis Jadot, 62 Route de Savigny. €150 per person. Telephone 03 80 26 31 98 for more information and, hopefully, timings.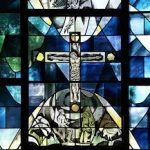 On 17 to 18 June 2019 at the Abbaye de Fontenay at Marmagne there are demonstrations of stained glass window making by a Master craftsman. They will demonstrate the traditional construction of a Cistercian window. 10.00 until 12.00 and 13.00 until 18.00. €10 per person.
On Sunday 16 June 2019 from 10.00 til 18.00 there is a Fete du Moulin at the windmill in Santenay (just off the road between Chassagne and Santenay – just look out for it). You can visit the windmill, browse the artisan stalls and see the demonstrations of the bread oven!
The location is spectacular in its own right, so pop along there at any time too!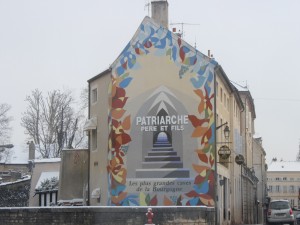 On Sundays until 7 July 2019, from 10.00 to 12.00 there are workshops covering the influence of the "Climat" on the wine Appellation. This is at Caves Patriarche in Beaune. Call 03 80 24 53 78. Price is €15.
From 21 June until 30 September 2019 there are light shows projected onto the most historic buildings in Beaune. There is even an App that you can get and follow a route with a description of what is being portrayed at each site. Tel 03 80 24 57 75 or go to the tourist office in Beaune.
Until 7 July 2019, in Puligny Montrachet, there is an exhibition of photographs of the Cote de Beaune and its vineyards called "Atmospheres". Open from 09.00 to 19.00. Free entry.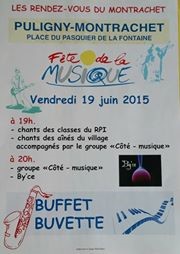 On the last Friday before 21 June  2019 we have the Puligny-Montrachet Music Festival which you (literally) cannot miss!
There will be singing by the pupils of the local school and also older locals.
Then there will be a band, buffet and drinks. A wholly local affair – should be fun!
On 21 (or possibly the last Friday before that date) June 2019 in Santenay, from 19.00 we have the annual Fete de la Musique (mind you, don't forget the one in Puligny also). The Santenay one features a New Orleans Jazz evening, with the Riverboat Stomper Dixie Band. Attendance is free and you can book a special menu at the Etape de Santenay (€24)!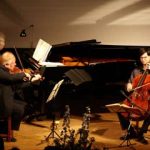 From 20 to 30 June 2019 there is the Summer Festival of Musique et Vin au Clos Vougeot, featuring the fabulous Maltese Tenor, Joseph Calleja (amongst others). The programme that we know about is as follows:
Saturday 22 June 2019 at 18.30 – in the Grande Halle of Beaune, a free concert of young talents (soprano and cellist with the Dijon Bourgogne Orchestra), with music by Schumann, Verdi, Puccini etc).

Sunday 23 June 2019

at 17.00 – at the Chateau du Clos Vougeot, a wine tasting in the ancient cuveries, followed at 18.30 by a concert featuring violin, cello and piano trio. Music by Shostakovich, Ravel and Mendelsohn. €35 per person, concert only. €70including tasting.
Tuesday 25 June 2019 at the Chateau du Clos Vougeot at 17.00 – a tasting in the ancient cuveries, followed by a concert featuring two solo violinists with a string quintet accompanying them, playing Vivalid's Four Seasons. Plus the Astoir Piazzola quintet, playing Piazzola's The Four Seasons of Buenos Aires. €35 per person, concert only. €70including tasting.

Friday 28 June 2019

at the Chateau de Meursault at 17.00 – wine tasting at the Chateau de Meursault, followed at 18.30 in Meursault church by a concert featuring soloists from the Vienna Philharmonic, playing works by Mozart and Dvorak. €35 per person, concert only. €70 including tasting.

Sunday 30 June 2019

at the Chateau du Clos Vougeot – at 18.00 a concert in the courtyard of the Chateau featuring the Orchestra des Climats de Bourgogne and the soprano Carmela Remigio. Including overture and arias from Don Giovanni, Beethoven, Schumann's third symphony etc. Followed by a Gala Dinner. €60 per person, concert only.
On 22 June 2019, in Santenay, at the Chateau de Santenay, we have an evening of music by Mozart and Brahms, with a quartet. Followed by a cocktail, featuring wines from the Chateau. €25 per person. Starts at 19.30.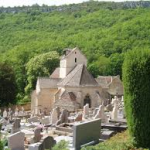 On 24 June 2019 there will be a celebration of the Feast day of Saint John at the Church of Saint Jean de Narosse, just above Santenay. There are two main events:
At 10.30, a mass, followed by a blessing of the newly-restored cemetery cross and a "verre de l'amitie" – a friendship glass of wine.
At 16.00, a concert of music.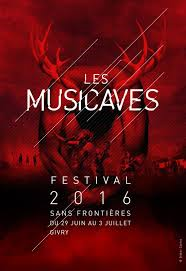 26 June – 30 June 2019 are the dates for the Givry Musicaves – "Givry is a charming village in the Chalonnais, not far from Chalon-sur-Saône. Each summer the vignerons put on a festival comprising of music from all over the world, classical concerts in the church, and Cirque Rasposo in the next little village. The concerts are staged throughout the day from 11.00 to 22.00 and all the events are punctuated with a delicious glass of local wine from the adjoining vineyards. A more pleasant way to pass a warm sunny evening is difficult to imagine." Click here to find out more (French).
In Nuits-Saint-Georges from 2 to 6 July 2019, in the grounds of the Chateau of the Albert Bichot Domaines, there is "an ambitious and eclectic music festival" called "Festivalnuits". To find out more, click on the link here. Individual events cost €34 per person and the events generally start between 20.00 and 20.30…
From 7 July until 25 August 2019 (Fridays and Saturdays) at 22.00 for two hours, we have fantastic "Son et Lumiere" re-enactment of 1000 years of the history of the Chateau of Sant-Fargeau. These take place on Fridays and Saturdays in July and August. You can also stay the night if you wish…
There will be over 600 actors and 60 horsemen. Click here to go to their website for further details. Tickets are €18 per adult and children €11. You can make a reservation on the website here.
This year they also have a traiteur (food to go stall) in the grounds offering local, authentic delicacies – yum! Doors open at 19.00.
From 12 to 14 July 2019 in the Chateau de Couches, Marguerite de Bourgogne, there is a Medieval festival, including horse riding, acrobats, professional sword fighting, dancers and music, with, of course, tastings etc. Adults €9, children €5.
Each weekend in July (5 to 28 July 2019) – the Beaune Festival of Baroque Music… Things in Beaune might include operas (The Marriage of Figaro and The Barber of Seville included), oratorios and recitals plus…
Click here for more information and bookings for the festival of baroque music. Events happen every Friday, Saturday and Sunday evening at 21.00.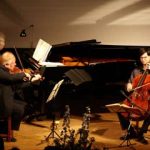 On 6-9 July 2019 we have Bach to Baccus in Meursault, a heady (but refined!) combination of music and wine. This takes place in locations not normally open to the public, including Meursault church, the recently restored leprosy hospital (!) and in the Chateau Meursault. There is a link here for a little more information.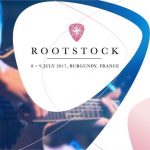 At the Chateau de Pommard on 13-14 July 2019 we have "Rootstock", the Burgundy equivalent of "Woodstock"!! With a focus on the three key aspects of life – music, wine and food!! There is a main stage with international rock and jazz "stars" and a second stage for acoustic sets with young French performers. Wine, champagne, cocktail and smoothie bars, a "chefs' alley", open air yoga sessions, body painting and lots of other things. Click here to go to their website for further details and bookings. It starts at 15.30 and is €60 per person.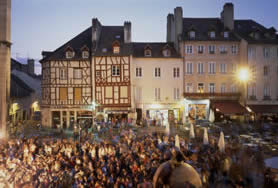 From 24 to 28 July 2019 we have a street entertainers' festival in Chalon.
The programme is hard to get hold of until about 6 July.
"Here is Burgundy's answer to the Edinburgh Festival, four days and nights of street performances by the local Abattoir arts group and their associates, together with visiting artists from far flung places from Australia and Chile to Spain and Germany. 160 acts, more than 1000 artists will be taking part.
"The vitality of the place over this weekend is infectious as thousands come to watch and join in. Enter the spirit!"
It is hard to get information in English – ask at the information office or just turn up and see what is going on! Try this link for more information (in French).
From 17 July to 21 August 2019 in the Port in Chagny we have a programme of tastings or "Apero" – each Wednesday from 18.30 to 20.30. "Come and enjoy the products of the Terroir from Chagny locals – wine growers, cheesemakers, bakers, brewers, charcuteries! In the pleasant surroundings of the Port of Chagny Nautical stop of the Grands Crus!"
Port de Chagny – Halte Nautique des Grands Crus Rue Etienne Jules Marey 71150 Chagny.
From 18 July to 25 July 2019 we have the Ete Musicale et Theatrale de Santenay. It includes concerts, cabaret, theatre etc. Check at the Santenay tourist office. For example, on 18 July there is a concert by an all-tuba band (!), on 19 July, an orchestral concert and on 20 July a big band concert. These are held in the Leisure Area in Santenay, by the swimming pool.
On 19 July 2019 in Meursault they have their traditional night market. There will be arts and crafts, tastings, demonstrations, concerts, food etc!
On 20 July 2019 at 20.30, at the Abbaye de Fontenay, there is a Son et Lumiere.
On 20-21 July 2019 in Nolay, in the 14th century marketplace, there is the 33rd annual artisan exhibition from 10.00 until 19.00. There will be examples of work from 35 artists.
August – these are still 2018 events
From 1 August to 23 August at the Chateau de Gilly at Gilly-les-Citeaux there are daily summer aperitifs at 18.30 to 20.30. Featuring welcome cocktails, a concert and an intermission including wine tasting and savouries. €25 per person.
On 3 August in the Eglise Saint Nicola in Meursault, there is a choral concert by Les amis de Claudio – Echoes of Venice, including works by Monteverdi, Gabrielli, Cavalli and Part. Free entry – 20.30 until 22.00.
On 4 August in the market square in Beaune from 16.30 until 23.00 there is a "night market". There will be regional artistic, craft and culinary products. From 20.30 la Place Carnot will be turned into a traditional open air bar/Music Hall (apparently Renoir famously painted one of these).
On the first weekend in August in Nolay we have the festival of wine and vines "de Cep en Verre" (from vine to glass). In the historic centre of Nolay, there are many celebrations including concerts, street entertainers, games, stalls, a parade etc. And of course tastings! It is €5 for admission plus a taste of something nice and a free wine glass to put it in.
Please note that Nolay is well worth a visit at any time of year for its ancient covered market.
There is a chance to meet winemakers and talk to them about their art and their passion.
There is also a 6km ramble round the vineyards on the Saturday, starting at 09.15 and taking about 4.5 hours. €16 for an adult, including lunch.
Go to Nolay's website for more information.
On 5 August we have the Ete Musicale et Theatrale de Santenay. With a piano andd accordion concert in the Eglise Saint-Jean. Check at the Santenay tourist office. Featuring Pictures at an exhibition and various tangos by Astor Piazzolla!
At the Chateau of Gilly-les-Citeaux on 9 August from 18.30 to 20-30 there will be a jazz  concert with original jazzy compositions. €25 per ticket. Book in advance. There will be welcome cocktails and, in the interval, drinks and savouries too.
On 11 August at the Abbaye de Fontenay (which is celebrating its 900th anniversary), a grand concert featuring Bach's St John Passion. Starts at 20.30, tickets €28 to €45. Phone 03 80 92 53 81
On 12 August we have the Ete Musicale et Theatrale de Santenay. It includes concerts, cabaret, theatre etc. Check at the Santenay tourist office. . There will be a concert featuring a saxophone/piano duo playing folk and country music, in the church of Saint-Jean.
From 14 to 16 August in Nolay from 10.00 until 19.00 there is an antique market under the ancient covered market. Entry is €2.50 per person. Nolay is worth a visit in its own right.
At the Chateau of Gilly-les-Citeaux on 23 August from 18.30 to 20-30 there will be a trio playing notes of jazz and boogie. €25 per ticket. Book in advance. There will be welcome cocktails and, in the interval, drinks and savouries too.
On 23, 24, 25, 26 August in Chagny there are four concerts at the Theatre des Copiaus (Rue Lois Gourat). This is the 17th Festival of Musical Moments of Chagny.
On Thursday at 20.30 the concert is a piano recital – homage to Claude Debussy
On Friday at 20.30 a trio playing Tchaikovsky and Shostakovitch
On Saturday at 20.30 a piano recital including works by Brahms and Beethoven
On Sunday at 17.00 a New Orleans Jazz Band
There will be a wine tasting after each concert.
Entrance is €15 per person – tickets at the tourist office.
On 25 August at the Abbaye de Fontenay (which is celebrating its 900th anniversary) from 21.00 to 23.00, there will be a walking concert featuring Gregorian chants around the buildings of the Abbey, illuminated by more than 1,200 candles. Phone 03 80 92 15 00 or go to www.abbayedefonenay.com